Before I go gung ho about Chinese New Year in blog, let's revisit my Valentine's Day. I know Valentine is like so yesterday but I had been very busy recently. This is the first time I log on to my blog ever since my last entry.
For my Valentine's Day, there wasn't any treasure hunt, no candle-lit dinner but a stalk of champagne coloured rose for him. Valentine's Day was like a catching-up-with-friend day for us. We ended the night with movie King's Men (goodness gracious, Taron Egerton is so cute!!!)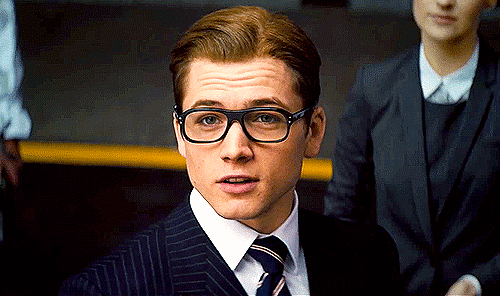 Just look at him! Melted or not?
We didn't plan to go all out for it since those dinner at finest restaurants during Love Sick Day would be ridiculously overpriced. Furthermore, our anniversary is around the corner, I think anniversary is more meaningful than Valentine. At least, that very day is meant for us.
Until now, I'm still clueless on how to celebrate our anniversary. Maybe reenact our first date or maybe, just maybe pop up the million dollar question since I learnt that our neighbouring country close by is okay to have wedding there (so they said).
Okay, back to Chinese New Year.
It has been tiring one so far. I started my break last Wednesday, Like usual, the yearly phobia of CNY still hunts me; traffic jam at the major highways. It was lucky that my journey to my hometown Ipoh only took three hours. My record of five hours back to Ipoh is still unbreakable. After barely an hour of rest, I hopped into my brother's car headed to Penang; my dad hometown. I think this is my first reunion dinner at my paternal side after more than 20 years.
It wasn't that jam after all
Penang for CNY
Lou ah! fatt ah! Bf stop nagging ah!
You may ask why Penang. Well, it wasn't a celebratory and joyful one since my family afraid that it would be the last reunion dinner with my grandmother. She is very ill recently. We are prepared and the elders have already discussed about funeral arrangement.
If that wasn't somber enough, my brother's car got hit from behind while we were on the way to my grandma's place. Since the fella didn't have money to pay, police report was the only choice. So you might countdown with fireworks and all the laughter, but for me and my brother, we celebrated at police station. Yeah, I still could catch some fireworks but from police station.
Well, I hope the series of misfortunes is not the omen of Year of The Goat. Let's hope for the best - for you and me alright?
Since it's Chinese New Year, let's sing a CNY song. Come on, "Everybody Happy, Happy with EcoWorld"...lol..my gosh, I'm so sick of that song. Everytime I came across in TV, immediately i will change the channel and that for sure.
Okay for real this time, let's sing.. "nian nian xi yang yang...something something...hong tang tang...something..bla bla...ni shin shang....."
How I love My Astro Chinese New Year songs, they will never fail me every year