From now on, people could shut their mouth and end the all time lame joke "Why Superman wears his red underwear outside" coz the new costume for Superman in Man Of Steel is without any underwear outside.
Wonder where is his red underwear? Well, guess so no more - it's in my room. He left it yesterday night.
Anyway, have you watched the Man of Steel? You should. To be more precise, bottoms out there, please watch this show. You will fall in love with Henry Cavill playing the Superman character. Even a lost sexual orientation like me also attracted to him. Gosh, he is really hot!!! Bottoms, please bring your inhaler or else, you will be hospitalised.
Well, like almost all superhero themed movies, be it by DC or Marvels or Hasbro, a huge question mark pop up in my mind as always - why the fighting scenes at the apex of the movie and the dramatic scenes which the bad guys destroying the earth happen in New York City? Now New York City is the only city in this whole damn world?
And one more thing that i don't understand - after all the running and jumping around, why does the superhero's girfriend's hair always stays in shape? Please recommend the hairspray they use. And oh yeah, running on heels is just piece of cake.
Anyway, who's your favourite superhero? I mean the hottest superhero who never fails to turn you on. Get your tissue ready, coz the content below might cause cumming drooling.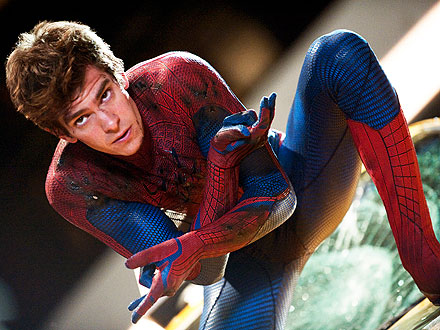 (pix from People.com)
Andrew Garfield in Spiderman. Though he doesn't have the tough body but i love his smile - just want to pinch his nose! Please don't fantasize on his spiderweb too much, you know what i mean.
(pix from film-intel)
God bless America!!! Chris Evans as Captain America. Well, i only watch Captain America in The Avengers, so i couldn't judge much but i prefer him in Fantastic 4. Maybe, the Captain America character is rather too old and too serious for him.'
Hello 911, there's a human on fire!!! Oh wait, it's just Human Torch from Fantastic 4. I believe you share the sentiment with me that Chris Evans as Human Torch is the hottest superhero of all. He's young, naughty, fresh and yes, he can set you on fire!
(Pix from SciFiNow)
I wonder where Thor got his hair done. Does he use Pantene or Dove? I love his hair and that's why he is in the list. Nevertheless, most of the girls love Thor the most. Is Chris Hemsworth that hot?
(pix from greenlatern.wikia)
Come on, which gay man who doesn't like Ryan Reynolds? He has the look and he has the body but he becoming Green Lantern - a total let down. I guess he did turn you on more in The Proposal with Sandra Bullock) rather than Green Lantern.
(pix from tumblr)

You guys remember Chris O' Donnell who stars as Robin in Batman and Robin 1997 along side with George Clooney? I'm writing 90's stuff doesn't mean that i'm old fag okay? Though he is 40 plus right nowbut in the 90s, he was such a heartthrob.
James Marsden as Cyclops in X Men. He looks much more cooler with shade to be honest. Anyway, he is somewhat hot too!
(pix: newinfilm)
Not a big fan of Christian Bale but if you ask me, Batman is my favourite superhero. He's mysterious, soft spoken and he has load of super weapons to save the world. And he's emo all the time too, that's why i like Batman. And yes, he has a sidekick who always in shorts...how envy!!
(pix:ign)
I never like hunky men but Henry Cavill as Superman in Men Of Steel is an exemption. Gosh, he is such a gentleman in the movie with utmost politeness to the people around him. The best thing is that he loves his mother a lot. Seeing a hunky superman with such a tender care and love for his mom, it can melt you easily.
There you have it, your favourite superheroes. So which superhero that you want to have to save your world?